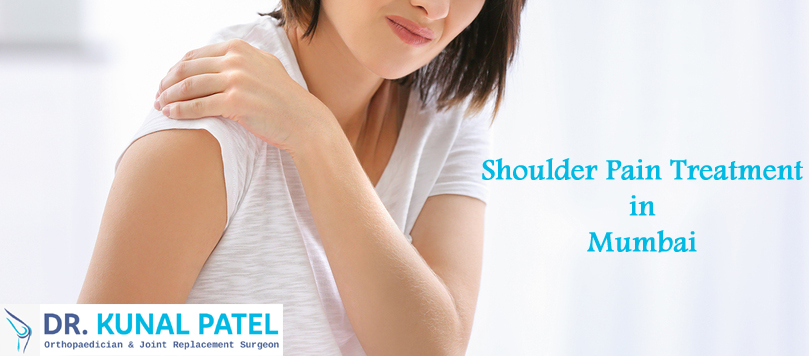 If you are searching for best doctor for shoulder Pain Treatment in Mumbai then we recommend Dr. Kunal Patel who performs various successful surgeries. Dr. Kunal Patel is the best joint specialist doctor and orthopedic surgeon.
Dr. Kunal Patel is the best orthopedic doctor in Mumbai who handle several kind of joint operations such as hip replacement surgery, knee replacement surgery, shoulder arthroscopy surgery, knee arthroscopy surgery and much more.
There are several reasons for shoulder pain such as injuries, fractures etc. Shoulder pain occurs when the shoulder loses motion because of inflammation. Many surgeries have been done to repair the shoulder injuries like- shoulder muscles, connective tissues, or other damaged joints that arise from other traumatic injuries.
In some cases,  shoulder injuries can overcome by some medical treatment such as pain gels, exercise, medication, taking rest etc. But sometimes, all these alternative treatments produce no result. Then you need to go for shoulder surgery. Dr. Kunal Patel is the best shoulder surgeon in Mumbai.
There are many risk factors for shoulder pain. Some of these include:
Cervical disk disease of the neck
Diabetes
Shoulder injury
Shoulder surgery
Hyperthyroidism
There are several symptoms of shoulder pain:
Decreased motion of the shoulder
Pain
Stiffness
Conditions and Treatments for shoulder pain include:
Rotator Cuff Injury / Shoulder Tendonitis
Shoulder joint instability
Shoulder Dislocation
Frozen Shoulder
Shoulder Impingement
Bursitis:
Osteoarthritis
Thoracic Outlet Syndrome
If anyone facing any problem of shoulder pain then you must have to concern with Dr. Kunal Patel. He is always available for you and stands with you.  He always guides you well for the treatment of shoulder pain.
Thus pick your phone and book your appointment with Dr. Kunal Patel. For appointments or any queries, you can call on the given number below:
Call At:  +91-(22) 2805-3021
Shoulder Pain Treatment Mumbai